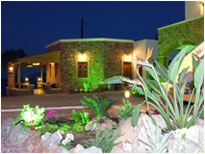 Our apartments and studios are newly built (2009). For your comfort they are spacious and fully equipped.
Kitchen, air-conditioning, living room, bathrooms and everything else you may need during your stay.
Panteli Beach apartments is just 5 min away walking distance from Village of Platanos and 10 min away from Aghia Marina.
For the ones that want less tiring and comfortable holidays  you can rent a car, scooter or bicycle!  

On the East side of the island of Leros –laying at the feet of Platanos village-you can find the most beautiful and picturesque fishing village of the Island.Panteli. Our accommodation, Panteli Beach stands here to complete the missing part, to be one with the old traditional houses and yet provide all the comfort you need.

Nowadays Panteli has turned into a popular –quiet- place with the sailings boats and yachts arriving every day and seize the beautiful moments that Panteli can offer. Restaurants, cafeterias and pubs attract the visitors and the local population of the island having them say that….if you haven't seen Panteli, you haven't seen Leros!